If you are wondering, how to delete Poshmark account? This step-by-step guide is exactly what you need to discover all the possible ways to cancel your Poshmark Account on your phone or browser.
Let's get started…
Poshmark is another great platform to expand your clothing and home décor business. As an e-commerce stage, Poshmark is available in the form of a website and an application that allows its user to sell both new and used clothing and home décor items. Whether you joined as a seller or buyer, Poshmark has a quick and easy setup to delete your account.
It is important to note that Poshmark will not execute any Account deletion request through a written request to Poshmark Support. In such a case, your Poshmark Account will remain active.
Note: Before you finally delete your Poshmark account on your phone or web browser, be sure all your rewards and balance are redeemed. Deactivating your account will not be possible if there are any pending transactions.
How to Delete Poshmark Account: 3 Methods
1. Deleting Poshmark Account on Your Phone
Deleting Poshmark Account from the Phone is quick, hustle free, and easy. All you need is to follow these 8 Steps:
1. Open the Poshmark app on your iPhone or Android phone.
2. Go to your Account tab on the bottom right corner
3. There you need to select Poshmark Support Center.
4. Next, you have to select Manage Account Status tab.
5. Select Delete My Account option.
6. Select your preferred way of receiving a verification code (via phone or email).
7. Fill in the reason for deleting your Poshmark account when prompted.
8. Hit Delete My Account and then complete the process by conforming to the action.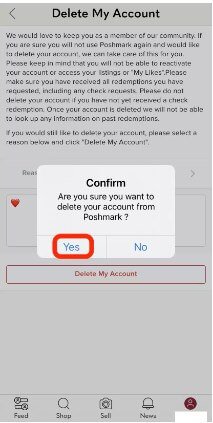 Note: The steps mentioned above are more or less similar for both iOS and Android Systems.
2. Steps to Remove your Poshmark Account on PC or Computer?
You can also delete your Poshmark account via your browser. Begin by visiting Poshmark's official login site.
Once you are successfully logged in, follow these steps:
1. Click on your profile picture in the upper right corner.
2. Once your account opens, go to Account Setting.
3. On your left-hand side, you will see a menu bar. From there, tap on Manage Account Status.
4. Finally, click on Delete My Account.
5. Next , pop-up screen, select "Yes."
6. Then, select "Logout." Your account is now deleted.
Note: Once your account on Poshmark is deleted, make sure to delete the app from your devices and clear the browsers history, cache and cookies.
3. Can I Delete Poshmark Account Without a Password?
If you do not have Poshmark Account password, you can opt for 'Forgot Password' while logging into your Poshmark Account. This will provide you with a prompted email from which you can reset your password. Then proceed to delete your Poshmark Account. Suppose you have to delete someone's Poshmark account. In that case, it is best to contact the Poshmask Customer Support desk mentioning your relation with the account holder and the reason for Poshmark Account closer (eg: Death of the Accountholder).
How Do I Temporarily Deactivate Poshmark?
If you are not sure whether to delete your Poshmark Account, you can temporarily deactivate it too. To do so all you need is to put your Poshmark Account on Vacation mode. To turn on Vacation mode from website, you have to follow the steps mentioned below:
1. Tap on your profile image at the top right corner
2. Go to Account Settings menu
3. Select the Poshmark Support Center
4. On your Setting menu select Vacation Hold.
5. Turn it on and enter a desired return date.
The following section will tell how you can deactivate your Poshmark Account through an App:
1. Go to your account tab
2. Tap on the My Seller Tools
3. Go to Account Setting Menu and Select Vacation Hold
4. Switch it on and enter the return date
Note: Make sure to save all the changes before leaving the Poshmark page/app.
FAQs on Poshmark Account
How Long Does It Take To Delete Poshmark Account?
Poshmark will take 6-8 weeks to fully remove your information once your account is deleted or removed. Thought Poshmark's users are able to turn off their search visibility too.
What Happens When You Delete Poshmark Account?
All information uploaded on your Poshmark Account will be inaccessible once your Poshmark Account is deleted. It is applicable for any saved product in your closet or listing too. 
Why Can't I Delete My Poshmark Account?
Pending orders, unlearned transactions, unsold items in your Account, or redeemable balances left in your account are a few reasons as to why you are unable to delete your Poshmark Account.

Note: Many people think simply deleting Poshmark App from their device will also delete their Poshmark Account. This is not true, so if you are unable to delete your Poshmark Account make sure you are deleting it and not the application on your device.
Can Poshmark Suspend Your Account?
Poshmark values specific community guidelines, breaking them can cause Poshmark to suspend your account. Reasons for a suspension may include harassing another user, selling fake or irrelevant products, scamming buyers, not shipping items, etc. You can learn about Poshmark's community guidelines .
How To Remove The Ban From Poshmark Account?
To remove the ban from your Poshmark account, you need to contact Poshmark's Customer support desk and fill out a form with a request to lift the ban. You can find the form Click here.
Why Can't I Log Into My Poshmark Account?
Outdated web browsers, devices, or operating systems might be hindering your login into your Poshmark Account. If you are using the following mentioned devices and yet are unable to log into your Poshmark Account, contact Poshmark Support for assistance:

Web Browsers:
Chrome 30 or later
Firefox 27 or later
IE 11 (Windows 7) or later
Safari 7 (Mac OS X) or later

Mobile Operating Systems

iOS 12 or later
Android 7 or later
How Do I Delete My Poshmark Email?
To delete your Poshmark email, first go to your Account tab, and under it select Notifications. Then find Email Nonfiction option and finally turn it off.
Why Is Poshmark Asking For My SSN?
Any seller with $600+ gross sales will receive a Form 1099-K, which requires the SSN of Poshmark sellers, this is part of changes in U.S. law (2022).
Can You Have 2 Poshmark Accounts?
In general case, you can have only one Poshmark Account. To have 2 Poshmark Accounts, you will need written permission from Poshmark.
Can I Buy On Poshmark Without An Account?
To buy from Poshmark you need to have a Poshmark Account. To do so you can sign up with your Gmail or Facebook Accounts or create a specific Poshmark Account.
Conclusion
To remove your Poshmark Account, you need to follow a proper step-by-step procedure and not just delete the Poshmark Application from your device.
Also, note that after deleting your Poshmark Account, your information cannot be restored. You can always opt to switch on the vacation mode on your Poshmark Account if you are unsure whether to delete your Poshmark Account permanently or not.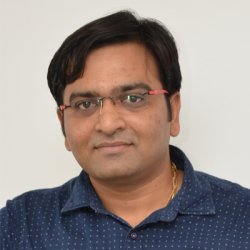 Latest posts by Hardip Koradia
(see all)