Using WalmartOne 2-step verification via Wmlink/2step on walmart can be a hard row to hoe. You may have tried everything and clicked every button on Wmlink/2step, yet the 2 steps of WalmartOne verification can feel like an endless process.
You do not have to feel lost and frustrated anymore. This article will provide you with all the needed directions to get the WalmartOne 2-step verification through Wmlink/2step.
What is WalmartOne 2 Step Verification?
WalmartOne 2-step verification is a unique and rotating 6 digit code used by all Walmart employees/ associates to login into their Walmart account through the employee portal (Wmlink/2step).
Walmart has kept the user account portal different from its employee account. As an associate with Walmart, you will notice that all Walmart employees have to use WalmartOne portal to login into their work account.
In order to keep the data safe and authenticate the account holder, Walmart uses a 2step verification technique.
To access WalmartOne account, you have to set up the wmlink/2step verification portal. After completing this, use the Adsa login credentials to sign in. https://one.walmart.com/content/asda-wm1/en_us/public/WalmartOne-Support.html.
What is WMlink/2step?
WMlink/2step on walmart is the portal that allows Walmart employees to manage their Walmart Account after completing the WalmartOne 2 step verification. The portal Wmlink/2step was added with the update in the security measure by the company.
Once you log in through Wmlink/2step, you can maintain and manage your Walmart work schedule, and payslips, utilize employee benefits, track appraisal details, leaves, and all upcoming events.
Wmlink/2step – WalmartOne 2 Step Verification: Steps
The WalmartOne Login verification takes just 2 steps: the first one involves information only you know (username and password), and the second step requires the 6 digit code generated for you.
However, before you reach to the WalmartOne verification code, there are many things you need to be sure of. Since setting up the WMLINK/2Step Verification is mandatory to access your Walmart employee account, it is essential to know all steps and nitty-gritty involved in WalmartOne Two- Step Verification.
1. First and foremost, you have to login to the Walmart WIRE portal click Here.
2. Next, fill-in the required details (User ID, Country, Home-office location) and click on Sign-in
3. Cross-check if you have logged into your account and not someone else. Verify your name on the top-right corner on the page. If there was some mistake, log out and re-login.
4. The next step is to prompt the control unit to generate your unique 6 digit Verification code. You have three options to select from: Message, Call or App.
5. Depending upon the choice of receiving the 6 digit Verification code via text, call or app, you have to follow different ways. The section below discusses all these options individually in detail.
Text Messaging Setup
You can set up the Wmlink/2step or 2 step Verification Walmart-one by requesting the 6 digit verification code over text messaging. Just follow these steps:
1. Select "Setup Text Messaging" option after you have entered the account.
2. Fill in the correct country and drop in your phone number.
3. Tap on "Send Code" to verify your phone number.
4. You will receive the 6 digit verification code. Enter the code and click on submit to complete the Wmlink/2step Verification.
Voice Call Setup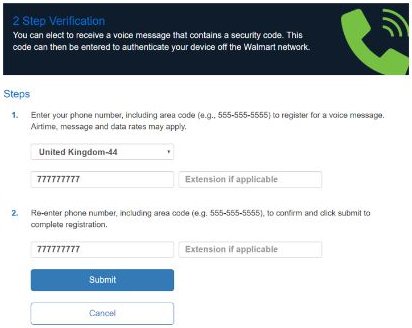 Your next option to setup Wmlink/2step Verification is via a voice call. Make sure you select the "Setup Voice Call" preference.
1.Start by selecting the apt country code and entering your phone number.
2. Once again enter the same phone number.
3. Hit up the "Submit" option.
Note: In the voice call verification method, you will have to re-enter your phone number instead of the 6 digit code.
Voice App Setup
Opt for the "Setup App" to begin the Wmlink/2step Verification. This will share your 6 digit verification code through an app.
1. Before anything, download the VIP Access App on your iPhone/Android devices.
2.Enter your App Credential ID and Security code.
3.Click on "Submit" when done.
How to Change the Verification Method?
You can even change the Verification Method if you want to. Follow the steps mentioned below:
1. Log in again to the account.
2. Go to the Wire Walmart Portal to get the 6 digit verification code.
3. Select from preferable options (text, voice, app) to change the method of your choice.
Common Issues with the WalmartOne 2 Steps Verification Method
Sometimes while using Wmlink/2step Verification, you may face some issues that prevent you from login. It becomes ever more crucial to identify which issue is preventing you from setting up WalmartOne 2 step verification. A few such issues with the 2 Steps Verification Method are mentioned below:
Forgotten Password
If you do not remember your password, you can not login to the Walmart Employee Account. To change your password for WalmartOne Account, click on 'Forgot Password on the login page. This will provide you with an email prompt and link to change your password.
Cache Willed with Junk
Un-cleared Cache junk can slow your browsers and keep you away from setting up WalmartOne 2 step verification. Clearing your browser of all cache, history, and cookies will help you overcome this issue.
Poor Connectivity
Poor internet and network connection can hinder your setup for Wmlink/2step Verification. Try to refresh your browser when it occurs.
Outdated Application
It might be possible that your app is not up-to-date with the latest setup system. Such difference can prevent you from getting the 6 digit verification code. It is always better to update the Walmart application.
For other issues regarding the 2 step verification at Wmlink/2setup head to the official Wlamart link here.
You can also contact the support team at support@walmartonesupport.com.
FAQs on WalmartOne 2 Step Verification
How Do I Access My Walmart One From Home?
WalmartOne or OneWire can be accessed from personal devices with Symantec VIP 2 step verification. This is needed even if you use Google Authenticator to log in to your workstation.
What App Does Walmart Use For 2 Step Verification?
WalmartOne uses Symantec Validation or ID Protection (VIP) to initiate the Walmart 2 step verification.
How Do I Reset My Walmartone Account?
In order to reset your Walmartone account, go to the login page and select "Forgot password". Next, enter your email id and select Submit. The system will generate a mail with guidelines on 'how to reset your account.
How Do I Verify My Walmart?
To verify your Walmart Account (basic verification), You need to contact 1-800-367-2884 and provide the Wal-Mart Company code and the Associate's social security number. For more detail, access this link.
Conclusion
This is all you need to know about the WalmartOne 2 step Verification via Wmlink/2step portal. With this information, you can easily generate the 6 digit verification code, smoothly log into your Walmart Account and manage your work even on the most hectic days.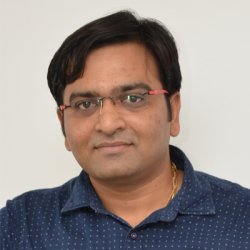 Latest posts by Hardip Koradia
(see all)